Chris buys a movie for $5.50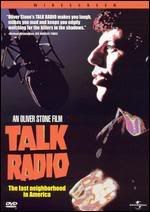 Last night while at WalMart I looked at the discount DVD rack and was shocked to see the movie,
Talk Radio
. I saw it in 1990 and have really wanted to get this DVD for the last two years and now here it was for only $5.50. The talk radio host that the movie revolves around does not really seem that realistic and there seems to be a lot of inconsistencies in this fictional character's ideology. One minute he's putting down bleeding-heart liberals and the next minute he's espousing ludicrously liberal ideas. He was an antagonist so the inconsistencies may have been intentional. It's a good movie though. It's solid. If you pick up a copy, don't watch it right after a movie with any action because you'll be bored out of your mind.
Buy Talk Radio from amazon.com:
ttp://www.amazon.com/Talk-Radio-Eric-Bogosian/dp/B00004X13U/ref=pd_bbs_sr_1/104-5647366-6871151?ie=UTF8&s=dvd&qid=1177244445&sr=1-1