77 WABC wastes Sunday slots on boring programming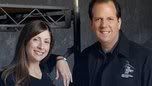 Ric Edelman 10am - 12pm on 77WABC: BORING!!!

Talk Radio used to be good on Sundays - Andrew Wilkow on WABC then Monica Crowley. Then Bauer and Rose after Wilkow left. Now, on both WABC and WAEB from 10am on they've got crappy health and financial shows. Who listens to this garbage? Here's the formula for the health show - an amazed host calls a health specialist who is selling a vitamin that no doctor wants anyone to know about because it is just so amazing and solves practically every single health problem that has ever existed. These health specialists are never in the studio with the host because he or she is just so crazy busy staying on the run from mainstream doctors who want him killed because of the secret vitamin that he has knowledge of. The financial shows? Who can listen for more than two minutes without strapping bombs to their chests?
WABC schedule for Sundays: Ric Edelman 10am - 12pm - boring financial poop. The Money Pit 12pm - 2pm - more boring financial poop! The Travel Show 2pm - 4pm - boring travel poop.
I just sent this email to the Program Director of www.WABCRadio.com
Hello,
I understand that the station can not stay the same forever but the Sunday line-up is horrific. What happened to the good old days of Andrew Wilkow and Bauer and Rose? The programs for the Sunday line-up are boring. I understand that talk radio does not get a lot of listeners on Sundays so that is why the day becomes a dumping ground for boring programs but more people would listen if you scheduled great programs with engaging hosts. Please, enough with the health, money and travel shows.
Listening (but not on Sundays) from PA,
Chris Francz